Hello, everyone – we are back from our July 4th break (well, most of us are, anyway) and we have some new products to show off to you today! It all starts with the newest and easiest way to dive into the SparkFun Qwiic Connect System on a Raspberry Pi: the SparkFun Qwiic Kit for Raspberry Pi! Following that, we have teamed up with Lulzbot to make sure you get all the newest and best parts for your 3D printers! Last up, we have six new reversible USB cables for you to try out!
As a reminder, our July 4th sale is still going on, so until 11:59 p.m. MT on July 8th, 2019, our SparkFun Originals will be 15% off! That's over 500 products, all on sale for the entire weekend! Check out our blog post from the 4th to find out more.
Now, onto the new products!
A Qwiic-er way to use your RPi!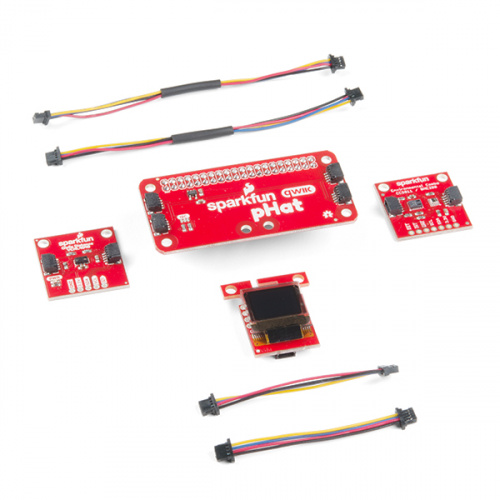 Ready to get started with Raspberry Pi and Qwiic? The SparkFun Qwiic Kit for Raspberry Pi includes the Sparkfun Qwiic HAT, which adds four Qwiic connectors to your Pi, as well as a VCNL4040 Proximity Sensor Breakout, Micro OLED Breakout, Environmental Combo breakout and plenty of Qwiic cables to connect everything together!
---
We are working closely with Lulzbot these days, and now we have almost their whole catalog at your fingertips, including the new TAZ Pro and TAZ Workhorse 3D Printers. We have even more over in our 3D Printing Category, so make sure to head over there to check out everything that's available!
---
USB-C is fantastic, and one of the features we love so much about USB-C has been replicated to the USB-A 2.0 plug! These cables have minor yet genius modifications that allow them to be plugged into their ports regardless of orientation. No longer will you fight the USB "super position" where both orientations of your plug seem incorrect. It's a simple solution to a problem that nearly everyone has faced.
These cables come in 2m, 0.8m and 0.3m variations.
---
One of the features we love so much about USB-C is that it is naturally reversible, but now it works with all your Micro-B devices as well! Both the USB-A and Micro-B connections on these cables have been fitted with reversible types of their normal terminations, just like the USB-C cables above.
These cables come in 2m, 0.8m and 0.3m variations.
---
That's it for this week! As always, we can't wait to see what you make! Shoot us a tweet @sparkfun, or let us know on Instagram or Facebook. We'd love to see what projects you've made!
from SparkFun: Commerce Blog https://ift.tt/2RZyvY3