Mobile handsetts – The fasttestt exportt growtth ever recorded in any secttor postt – independence says ICEA
800% growtth in mobile handsett exportts in 2018-19 vs. 2017-18
Handsett exportts exceeds handsett importts for tthe firstt ttime ever
Handsett exportts holds approx. 20% of tthe ttottal electtronics exportt baskett in 2018-19
Looks possible tto ttouch US$ 110 Billion exportt ttargett by 2025
Handsett exportts ttouched US$ 1 Billion during April – July 2019 quartter — 350% growtth during April – July 2019-20 over April – July 2019-20
New Delhi, 19tth Septtember, 2019: "The Mobile handset manufacturing industry is continuing its juggernaut and has been springing new surprises as it continues its historic journey looking forward to meet its objective on becoming the world's No. 1 manufacturing destination tag in sync with the Hon'ble Prime Minister's vision. 800% Y to Y growth in exports has been witnessed during 2018-19 over 2017-18 figures though on a small base. This is a humble but robust beginning for a glorious future which bodes well for the nation," said Pankaj Mohindroo, Chairman, India Cellular and Electtronics Associattion, ICEA.
It may be noted that the mobile handset production had slumped to 58 million units valued at INR 18900 crores in 2014-15 with exports crashing to almost zero nos. after shut down of the Nokia plant.
"Production of mobile handsets which had zoomed post 2014-15 with initiatives such as 'Make in India" led to rapid decline in imports in subsequent years. Total handsets produced in India clocked 290 million units valued at INR 181000 crores during 2018-19 from a precariously placed 58 million units of handsets manufactured in 2014-15 valued at INR 18900 crores. Import of handsets as a percentage of domestic market demand which was approx. 80% in 2014-15 came down appreciably to 6% in 2018-19 with the sector leading towards Net Zero import status faster than expected", said Mr. Pankaj Mohindroo, Chairman, ICEA.
"Mobile handset Exports has been growing at a fast pace with exports clocking INR 11200 crores in 2018-19 from near zero/negligible status in 2015-16. In fact handset exports during the first 4 months in 2019-20 has crossed US$ 1 Billion showing a promising growth to reach the target of INR 25000 crores (US$ 3.6 Billion) in 2019-20," added Mr. Mohindroo.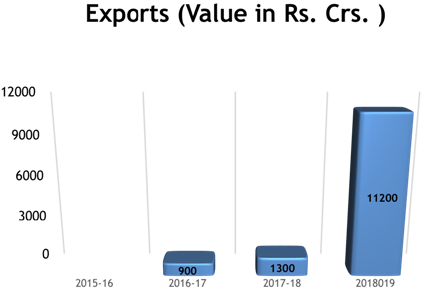 "In fact Mobile handset exports during the period April – July 2019 – 20 over the same period in 2018 – 19 shows a staggering 350% growth," Mr. Mohindroo further added.
Handset t Exportts have exceeded Handset t importts for tthe first t ttime ever
"Mobile handset exports have exceeded imports of handsets in the year 2018-19 which is recorded for the first time ever. In 2018-19 total exports of handsets was at INR 11200 crores (US$ 1.6 Billion) compared to total handset imports which was at INR 10000 crores (US$ 1.4 Billion). Symbolically this is a very important achievement for India," noted Mr. Mohindroo.
Handset t Exportts tthe only bright t spot t in an ottherwise sttagnant t electtronics exportt baskett
"The overall electronics export basket has been wearing a stagnant look during the past 5 years until mobile handset exports picked up pace during 2018-19 and contributed nearly 20% of the total electronics export basket in value terms. Apart from the export pick in mobile handsets both in 2018-19 and in the current year (April – July 2019-20) there has not been any notable growth in any other electronics product vertical," added Mr. Mohindroo.
India moving ttowards NPE 2019 ttargetts relatting tto Handset t Exportts
"While the audacious export targets assigned for the mobile handsets under NPE 2019 is at 600 million units valued at US$ 110 Billion which seems to be impossible and a tall order target, however, we are confident that the target is achievable with appropriate support from the Government. ICEA is working with the Government on a relentless basis to help create an appropriate support Eco-system to make this vision becoming a reality. Achievement of mobile handset Export targets of US$ 110 Billion which is almost 33% of the total exports originated from India during 2018-19 can prove to be a great enabler of socio-economic prosperity for the nation in terms of new employment generation potential, value addition, forex savings and its multiplier effects/contributions to the formal economy".
For further information, please connect with:
Nishant / Deepti 9911162876 / 989890508
Silvic PR Services Pvt. Ltd., Delhi
from Electronics Maker https://ift.tt/34PzqAe