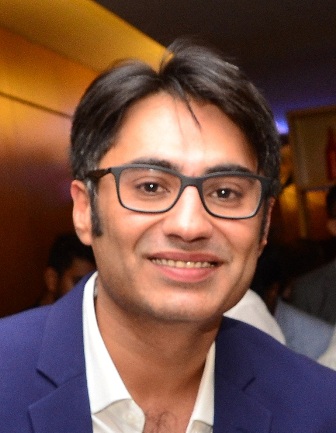 Christie is a global visual, audio and collaboration solutions company offering diverse solutions for business, entertainment and industry. Christie is continuing to break new ground as a powerhouse of innovation: leading the film-to-digital conversion, putting pixels everywhere with Christie MicroTiles® and digital displays, and bringing massive landmarks to life with projection mapping. Plus, the company is on the leading edge of new and exciting solutions: introducing immersive audio, advancing seamless presentation and collaboration, and opening up a new frontier with laser projection. Mr. Rishubh Nayar, National Sales Manager, Enterprise, Christie India shares more about Christie and its products, company vision and market growth in this interview.
Can you share the history of Christie Digital with us? What initiative has been taken by Christie in introducing state of the art products in India?
Christie is a global visual and audio technologies company that revolutionized the movie industry with the launch of digital cinema projection. Since 1929, we have embraced innovation and broken many technology barriers. From the world's largest mega-events to the smallest applications, our technology—from advanced RGB pure laser and SDVoE technology to image processing and LED display solutions—empowers people to create the world's best shared experiences.
India is a one of the key markets for Christie in the Asia Pacific region. As such, we work very hard to ensure that effective feedback is provided to Product Managers, which in turn keep the same in mind while launching new products. We have recently launched the Christie Core Series LED specifically for the Indian market. Available in a range of pixel pitches, Core Series video walls are ideal for smaller-scale fixed installs and digital signage applications or larger projects where price is a factor.
What are your views on the visual display industry in India?
The visual display industry in India has continued to grow steadily, and we have had some many firsts in India, such as the spectacular projection mapping show on the Statue of Unity – the tallest statue in the world, which was accomplished using 51 Christie Crimson 3DLP® laser projectors. (You can read about this major project here.) In addition, Christie is also selected to power one the largest single narrow pixel pitch LED walls in India. However, having said that, each market is distinct from each other.
What is your contribution to this market?
We cater to a vast array of segments like corporate, government, entertainment, defense, broadcast, cinema, rental and staging to name a few.
Are there other monuments like the statue of Unity, Konark temple that your company will install its products? (Please name some)
We have completed close to 20 permanent projection mapping installs across India. These include Dhauli Shanti Stupa in Bhubaneswar, Somnath Temple in Gujarat, Jung-e-Azadi Memorial in Punjab, Konark Sun Temple in Odisha, GTB Memorial in Delhi, and Dharti Aaba show inJharkhand.
What products will you be launching in India in 2019?
We are launching a number of exciting products in India this year. First and foremost, we are introducing the Christie APS Series, which consists of two feature-rich 3LCD laser projectors designed for classrooms, boardrooms, and other small-space environments. The APS Series combines the affordability of 3LCD technology with the reliability, performance and operational life of laser illumination, offering customers amazing value without sacrificing quality.
In terms of high-brightness projectors, we will be launching new models for the Christie Crimson Series 3DLP laser projectors, which has seen huge success in India (particularly for the Statue of Unity project mentioned earlier). Designed with the technician in-mind, the Crimson Series is built-tough and is easy to ship, handle and install thanks to its compact form factor, quiet operation and 360-degree orientation. Featuring an IP5X-sealed, solid-state laser light source, our Crimson projectors provide years of reliable, low-cost and virtually maintenance-free operation.
Those looking for pure performance and excellence can check out our new Christie D4K40-RGB pure laser projector – an all-in-one, 40,000 lumen RGB pure laser projector that provides an exceptionally wide color gamut, achieving greater than 95 percent of the Rec. 2020 color space. Ideal for large venues such as giant screens, planetariums, sports facilities and theme parks, this all-in-one projector delivers detailed images that exhibit unparalleled color, brightness uniformity and control, coupled with low maintenance.
We are also launching new LED products. Leading the pack is the Christie MicroTiles LED, which continues the video wall legacy of innovation set by the original platform. Smaller, brighter, more powerful and flexible, MicroTiles LED delivers P3 color space, fully compliant HDR-10 and patented software that keeps the wall calibrated at 97 percent or greater uniformity. They are suitable for broadcast sets, corporation venues, museums, retail, stadiums, arenas, and higher education.
What is your current growth rate and can you anticipate your growth this year in India?
Christie continues to see healthy growth in the Indian market. Going forward, we anticipate continued growth in key cities such as Delhi, Chennai, Mumbai and Bangalore. These are the places that the larger chunk of investments will go to. But having said that, what's driving the change are investments that are increasingly flowing to Tier 2 and Tier 3 cities, where convention centers, entertainment and cultural amenities such as museums are being built. As well, new multinational companies are setting up their offices in India and these are possibly the biggest opportunities in the coming year.
from Electronics Maker https://ift.tt/2LZjtQQ