Optimal non-volatile memory for applications in automobiles and industrial robots that require high reliability in high-temperature environments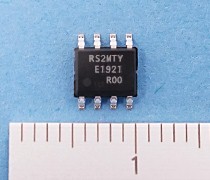 Singapore, Oct 30, 2019 –Fujitsu Electronics Pacific Asia Ltd. today announced the release of the 2 Mbit FRAM* MB85RS2MTY, which has the largest density in the FRAM products operating up to 125°C. Evaluation samples are currently available.
This is non-volatile memory which guarantees ten trillion read/write cycles across its full temperature range. This FRAM product enables continuous frequent data logging such as driving data or positioning data in real time. In addition, written data can be protected due to non-volatility even if sudden power outages occur. Therefore, it is optimal for applications running in high temperature environments such as automotive equipment and industrial robots, which generate large amounts of heat with engines or motors.
For approximately 20 years, Fujitsu Semiconductor has mass-produced FRAM non-volatile memory products featuring higher read/write endurance, faster writing speed operation and lower power consumption compared to EEPROM and flash memory. In recent years these products have been successfully adopted in wearable devices, industrial robots and drones.
This product with 2 Mbit density features an SPI interface, a wide power supply voltage range from 1.8V to 3.6V and operating temperature up to 125°C. It offers guaranteed ten trillion read/write endurance, equivalent to 10 million times EEPROM's, even in environments of 125°C. The maximum operating frequency is now 50 MHz, which is 1.5 times faster than existing products. Furthermore, the reliability testing for these products also complies with AEC-Q100 Grade 1, a qualification requirement for products to be called automotive grade.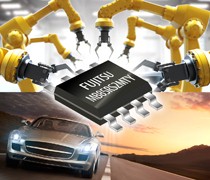 This FRAM product is housed in an industry-standard 8-pin SOP package, making it easy to replace existing EEPROM products with a similar footprint. In addition, an 8-pin DFN (Dual Flatpack Non-leaded) package is available.
Fujitsu Semiconductor has been offering FRAM products with higher data writing performance than EEPROM for IC cards, industrial machinery and consumer devices. Then, since mass-production of FRAM products guaranteed to operate up to 125°C started in 2017, the 125°C-operated FRAM products are now increasing in the markets for automotive and industrial machinery requiring operation at high-temperatures and with high reliability. This time Fujitsu Semiconductor has developed the largest density product of 2 Mbit to strengthen its lineup of FRAM product guaranteed operation up to 125°C.
Fujitsu Semiconductor will continue to offer FRAM-based products and solutions to improve the value and convenience of customer applications.
Key Specifications
Part Number: MB85RS2MTY
Density (configuration): 2 Mbit (256K x 8 bit)
Interface: SPI (Serial Peripheral Interface)
Operating frequency: 50 MHz (max.)
Operating voltage: 1.8V to 3.6V
Operating temperature range: -40°C to 125°C
Read/Write endurance: 10 trillion times (1013 times)
Package: 8-pin SOP, 8-pin DFN
Qualification standard: AEC-Q100 Grade 1 compliant

Glossary and Notes
*FRAM:
Ferroelectric random-access memory. A type of memory that uses a ferroelectric file as capacitors to store data. Retains contents even when power is cut. Combines benefits of both ROM and RAM, with fast write speed, low power consumption, and high read/write cycle endurance. Also known as FeRAM. Produced by Fujitsu Semiconductor since 1999.
For more information:
Fujitsu Semiconductor Top page
FRAM Top page
MB85RS2MTY Introduction page
MB85RS2MTY datasheet (for automotive)
from Electronics Maker https://ift.tt/33bdVIM