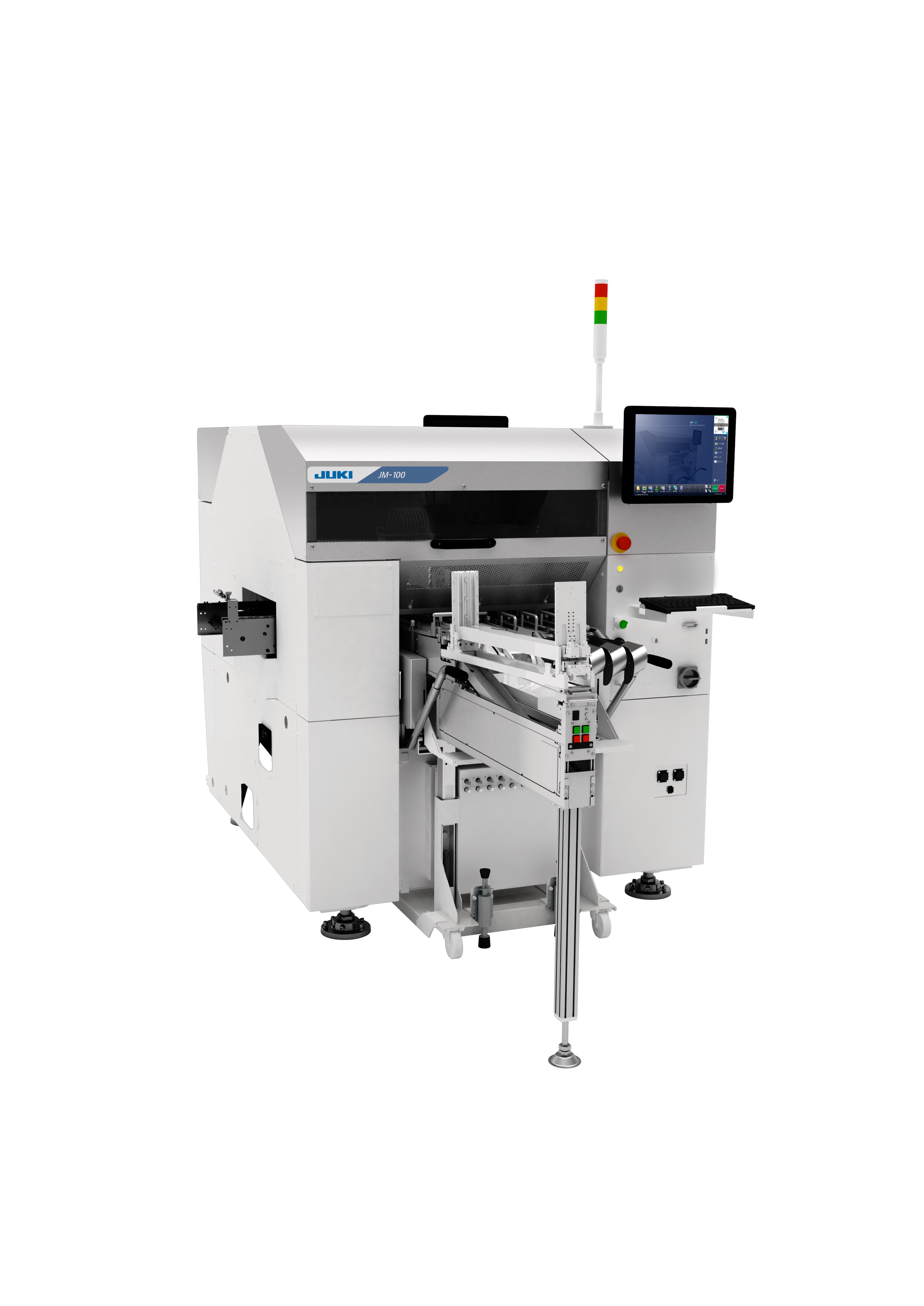 MORRISVILLE, NC ¾ October 2019 ¾ Juki Automation Systems (JAS), Inc., a world-leading provider of automated assembly products and systems and part of Juki Automation Systems Corporation, announces that it was awarded two 2019 Mexico Technology Awards in the category of Placement – low/med volume for its JM-100 and Storage Systems for its Incoming Material Station. The awards were presented to the company during a Wednesday, Oct. 23, 2019 ceremony that took place during the SMTA Guadalajara Expo & Tech Forum.
The JM100 odd-form inserter automates the manual insertion process and is the advanced model for larger/heavier components and larger boards. The system can place or insert surface mount and through-hole components. The JM100 accommodates multiple types of feeders with the widest component range in the electronics industry.
With the Incoming Material Station, operators can speed up material registration activities, avoid mistakes, and increase the traceability of each individual reel or component package. With its Auto-Incoming features, it is possible to automatically import information from the supplier and/or customers' label into the ERP and print a new Unique ID that can be used for many other functions within the factory.
After setting the rules for each supplier's label, the operator can simply position the material on the Station and the high-resolution camera will read all the needed codes and information, take a picture for traceability purposes and print the new label. The system also comes with a handheld bar code reader for other odd shaped material packages where the bar codes need to be manually scanned for receipt and registration.
Bill Astle, President and CEO of Juki Automation Systems, Inc. commented, "We are super thrilled and truly honored to win these two awards. The JM-100 multi-tasking platform leverages our RS-1 innovative Takumi placement head and is now available with automated underboard clinching making it more attractive than previous JM series machines. The IMS, or Incoming Material Station, is a relatively new product offering synergy with our Intelligent Storage Management (ISM) towers and cabinets. Its ROI value has proven to be just a few months in many cases."
The Mexico Technology Awards acknowledge the latest innovations available in Mexico produced by OEM manufacturing equipment and materials suppliers over the last 12 months.
For more information about Juki, visit www.jukiamericas.com.
from Electronics Maker https://ift.tt/2qJTVPf