New Delhi, India – Signify (Euronext: LIGHT), the world leader in lighting (formerly known as Philips Lighting), today launched 'Philips Smart Wi-Fi' LED Bulb in India. This latest smart bulb offering works on Wi-Fi and lets you easily control your Philips Smart lighting using a mobile app or voice assistants including Siri, Google Assistant and Amazon Alexa. Philips Smart Wi-Fi LED bulb works on the WiZ technology platform. You can get started simply by installing the easy-to-use WiZ app on your smartphone or tablet and connect to your home's Wi-Fi network – no wiring, smart hub or additional equipment is required. The company has announced an attractive launch offer on the Philips Smart Wi-Fi LED bulb, available on www.amazon.in in India, during the ongoing Great Indian Festival.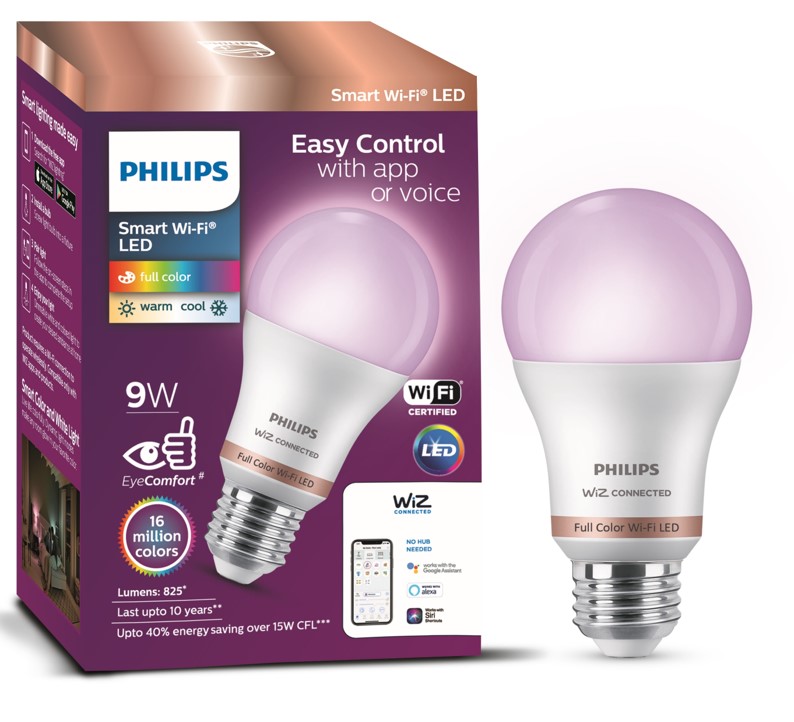 The Philips Smart Wi-Fi LED Bulb lets you create the perfect mood for every moment. Choose from its millions of color options or use its preset themes or create special customized light settings. You can also tune your Philips Smart Wi-Fi Bulb to the perfect shade of white light, ranging from warm white to cool daylight to suit your daily tasks. By choosing the right light suiting different parts of the day, it also supports your body's natural circadian rhythm, enhancing your well-being. Philips Smart Wi-Fi Bulb also lets you automate your lighting, using its timer and scheduling functions. For example, your lights could switch on automatically as you reach home.
"Philips Smart Wi-Fi LED bulb puts you in complete control of your lighting with smart bulbs that are easy to use, functional, and affordable. We are delighted to introduce this new smart light bulb that lets you conveniently control your lights using a mobile app or voice assistants. You can now choose the right light for any situation, whether you are spending time with your family and friends, doing housework or enjoying a meal with a single tap of an app or using your voice" said Sumit Padmakar Joshi, Vice Chairman and Managing Director, Signify Innovations India Limited.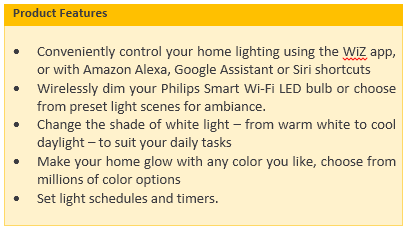 Getting started is simple
Download the free WiZ app (iOS or Android), screw the Philips Smart WiFi LED light bulb in any existing table lamp or wall fixture, and follow the step-by-step guide in the app to complete the setup.
from Electronics Maker https://ift.tt/2pzuvmZ