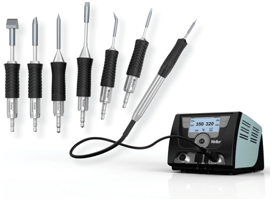 Lexington, SC, October 2019–Weller Tools, the world's No.1 brand in hand soldering solutions, announces that it was awarded a 2019 Mexico Technology Award in the category of Hand Soldering for its Active Tip Range. The award was presented to the company during a Wednesday, Oct. 23, 2019 ceremony that took place during the SMTA Guadalajara Expo & Tech Forum.
Whether in the electronics field, medical technology or aerospace field, the industry is moving faster and the components are steadily becoming smaller, more complex and more powerful.
"The soldering industry is no different and in order to meet these increasing demands, Weller is expanding its existing Active RT soldering tip series," said Philippe Buidin, VP and General Manager for Weller."Weller has and will continue to offer the widest range of these high-end soldering tips."
Weller's expanded tip series offers the highest precision, while maximizing performance and power. The tips work with the high performance WX platform of soldering stations.
With its new manufacturing plant in Querétaro, Weller now offers better access to hand and automatic soldering solutions to the vast electronic manufacturing systems businesses in México.
The Mexico Technology Awards acknowledge the latest innovations available in Mexico produced by OEM manufacturing equipment and materials suppliers over the last 12 months.
from Electronics Maker https://ift.tt/2PlzwdO