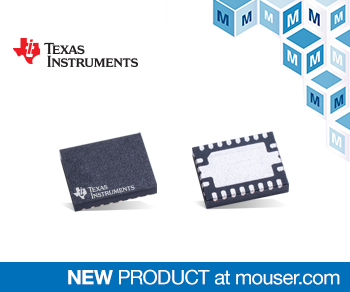 December 16, 2019 – Mouser Electronics, Inc., the industry's leading New Product Introduction (NPI) distributor with the widest selection of semiconductors and electronic components, is now stocking the TCAN4550 and TCAN4550-Q1 Controller Area Network with Flexible Data Rate (CAN FD) controllers from Texas Instruments (TI). Supporting data rates of up to 5 Mbits per second (Mbps) with up to 18 MHz SPI clock speed, the TCAN4550 devices are the industry's first system basis chip to integrate a controller and transceiver for CAN FD. The highly integrated controllers are ideal for use in building automation, industrial transports, and factory automation, and the TCAN4550-Q1 version is AEC-Q100 qualified for use in automotive applications.
The TI TCAN4550 controllers, available from Mouser Electronics, deliver differential transmit capability to the bus and differential receive capability from the bus. The controllers boast wide CAN BUS operating ranges, including ±42 V bus fault protection and ±12 V common mode. The chips provide an interface between the system processor and the CAN bus using a serial peripheral interface (SPI), offering support for both CAN FD and classical CAN. Featuring multiple operating modes, including standby and sleep, the controllers offer low power consumption through the use of wake and inhibit features. Capable of supporting the bandwidth and data flexibility requirements of in-vehicle networks, the controllers can implement a CAN FD interface on a system using the SPI bus of nearly any microcontroller.
The TCAN4550 controllers are supported by the TCAN4550EVM evaluation module, which can be connected to any microcontroller or SPI controller with an I/O voltage of 3.3 V or 5 V using a standard interface header. Featuring an EMC-filtered and polarity-protected supply voltage, the evaluation module is capable of operating using an external voltage of 6 V to 24 V.
To learn more, visit https://ift.tt/38Lziny.
As an authorized distributor, Mouser Electronics is focused on the rapid introduction of new products and technologies, giving customers an edge and helping speed time to market. Over 800 semiconductor and electronic component manufacturers count on Mouser to help them introduce their products into the global marketplace. Mouser's customers can expect 100% certified, genuine products that are fully traceable from each manufacturer.
With its broad product line and unsurpassed customer service, Mouser strives to empower innovation among design engineers and buyers by delivering advanced technologies. Mouser stocks the world's widest selection of the latest semiconductors and electronic components for the newest design projects. Mouser Electronics' website is continually updated and offers advanced search methods to help customers quickly locate inventory. Mouser.com also houses data sheets, supplier-specific reference designs, application notes, technical design information, and engineering tools.
from Electronics Maker https://ift.tt/2rKnfpV